This report shows the completion status and progress for all tasks and projects within your hiTask account. You can find it by clicking the Reports link, at the top of your hiTask Dashboard.
This report allows you to configure it using a wide range of preferences, according to your specific needs:
Choose your Report data - you can choose to include only shared or private Projects and Items, or to include both.
Include archived items - Simply check the box if you want archived items to be included in your report.
Include completed - Check the box to include completed items.
Choose whether you would like to include task descriptions.
Choose whether you would like to include item comments and select how many you would prefer to include: only the last comment, the last 10, 25 or 50.
Choose whether to include all of your items or those that fit into a specific date range. Check the box below if you would prefer to include items that have been updated during this period (if you have selected a date range).
Choose the order of your items in the report - You can order them by priority, alphabetically or by the date when they have been last modified.
Select a format - you can choose to generate your report in HTML, Excel or PDF format.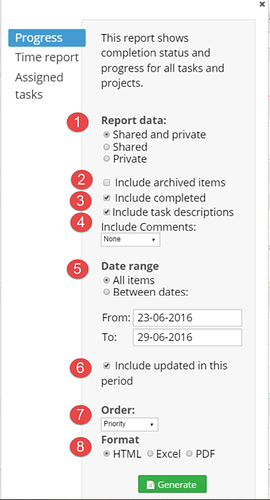 Now simply click Generate and that's it! Your report will look similarly to the one below: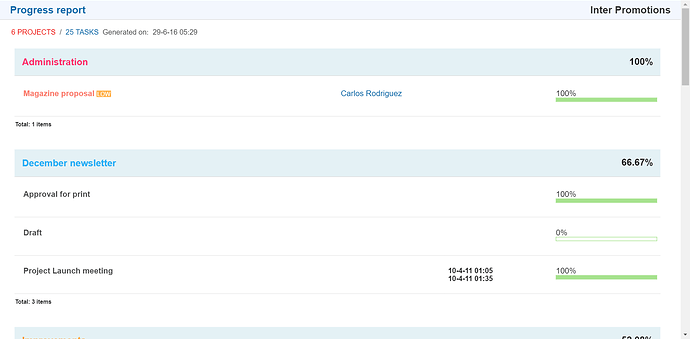 Note: The reports open in a new browser window or tab. Please make sure you do not have any browser setting or add-on that might prevent hiTask from opening pop-up windows.